tcpO2 PRÉCISE 8008
For the quick transcutaneous measurement of oxygen partial pressure
With the Précise 8008, you can carry out up to 8 measurements at the same time and read all relevant data on the large display. The measurements can be displayed numerically and graphically.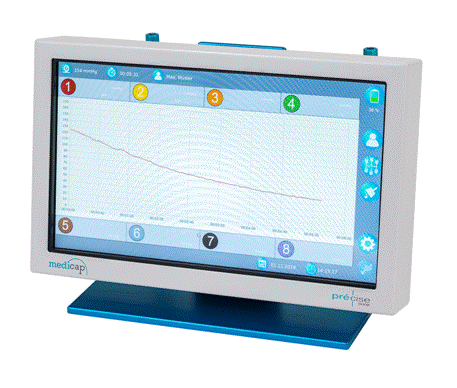 ---
For everyday use
The sensor parameters, the measurement process, as well as the measurement results can be saved onto an SD card. Therefore, you can reliably document every measurement and process them at any time externally on a PC. The sensors are suited both for the determination as well as monitoring of oxygen partial pressure, as they are also applicable for long-term measurements.

The modern microelectronics feature most notably outstanding and efficient sensor technology. The striking usage advantages are high precision, low expenditure of time and reliable operation.
---
Monitoring function without taking blood
The oxygen sensor is fixed directly onto the skin, and by doing so, the rate of circulation to the area of the skin will be increased thermically by the integrated heating system up to max. 44 °C. The measurement result can be read after the increased rate of circulation time of approx. 8 minutes.
---
Innovative
An unbeatable advantage of the applied sensor technology is that it does not wear. The optical oxygen sensor must not be pre-heated.
---
Time-saving
The optical measuring process renders the cleaning of the electrodes, as well as the changing of the electrolyte and membrane unnecessary.