AngE™ ABI+
For early detection of
Peripheral Arterial Disease (PAD)
Request Trial
Easy PAD Screening
Simultaneously record on all limbs.
Apply the cuffs on all limbs simultaneously and get your results within 2-3 minutes automatically.
ABI and much more
Fast and easy simultaneous 4-point assessment of oscillometric Ankle-Brachial-Index (ABI), Pulse Wave Velocity (PWV) and Pulse Wave Index (PWI™).
TBI optical add-on module
Use 2 additional optical PPG probes to determine Toe-Brachial-Index (TBI) and Toe Pressure.
PAD assessment
A comprehensive ABI measurement system to efficiently assess Peripheral Artery Disease (PAD), in line with guideline recommendations.
macOS and Windows
The AngE Software offers precise analysis and works natively both on macOS and Windows computers.
Why it's important to
early diagnose Peripheral Arterial Disease (PAD):
~13%
are affected
PAD affects 12-14% of the world's population.*
20-50%
are asymptomatic
Up to every other PAD patient does not experience symptoms and is likely not diagnosed.*
50%
die within 4 years
Only 50% of PAD amputees survive more than four years.*
4-Channel Oscillography
Simultaneous recording on all limbs.
Apply Pulse Volume Recording (PVR) on all limbs at the same time to quickly determine the slightest side differences.
The oscillometric ABI, Pulse Wave Velocity (PWV) and Pulse Wave Index (PWI™) will be automatically calculated during the test.
Use the build-in Exercise Stress-Test to detect variations pre and post provocation.
Optical TBI Add-On
Systolic Toe Pressure, TBI and Skin Temperature.
Add two optical pulse volume sensors to assess toe pressure and temperature differences as well as to calculate the oscillometric TBI in one test.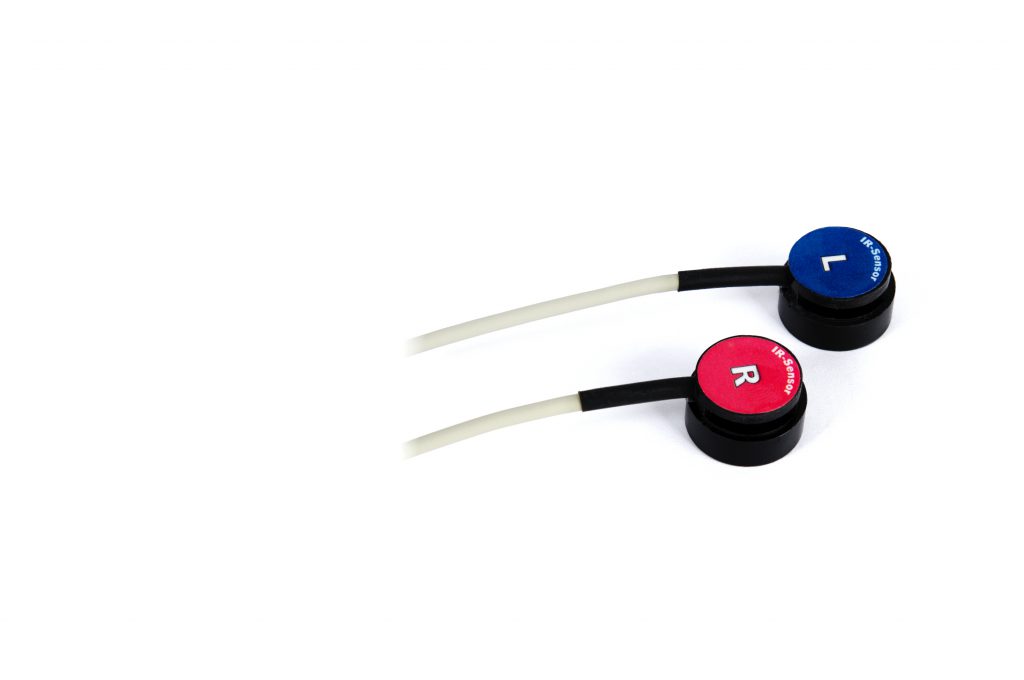 Advantages with AngE™ ABI+
Simultaneous on 4-Channel
Apply above bandages and clothes
Oscillometric ABI calculation
TBI and Toe Pressure (add-on)
Pulse Wave left/right comparison
PWV (Pulse Wave Velocity)
Advanced Reporting
One-page overview report.
Get all calculated parameters and pulse wave recordings on a one-page printable PDF report.
All at a sight.
Use your custom clinic logo and contact details to ensure a seamless branding towards your patient.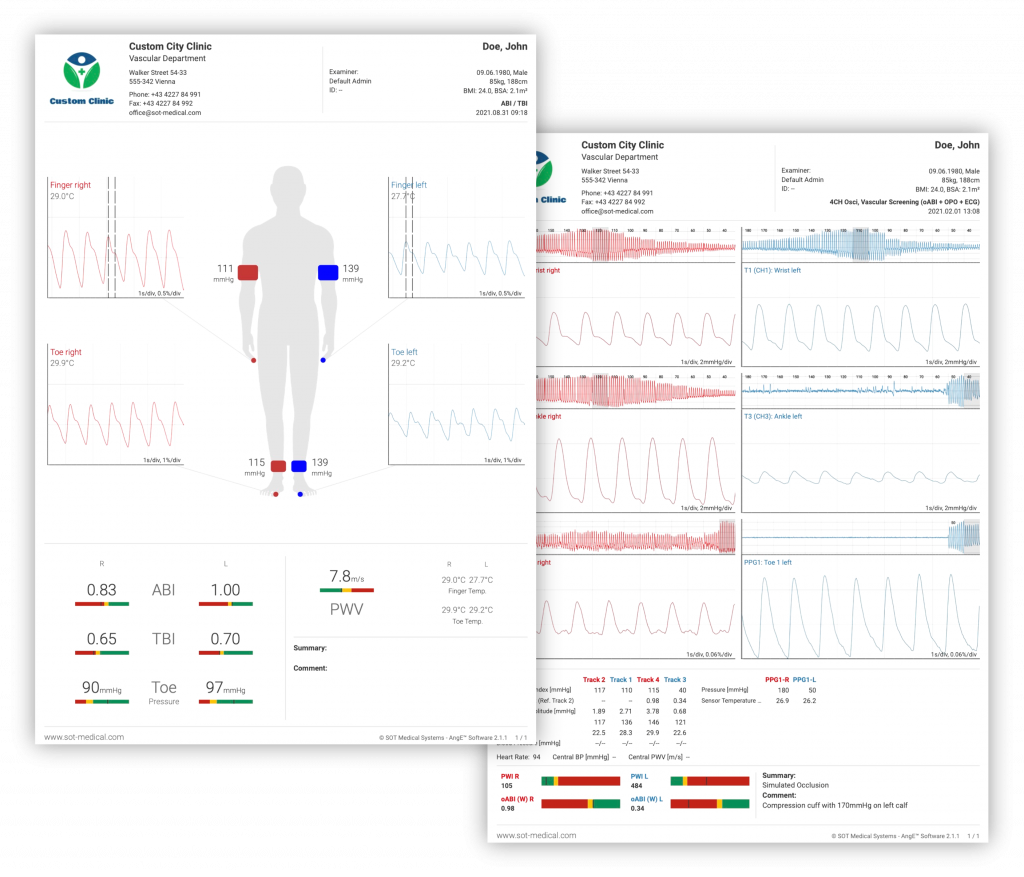 Extendable
Add even more test applications.
Any time.
The AngE™ ABI+ system is designed to be as modular and extendable as possible to stay flexible to your needs.
Add various arterial (TOS, Raynaud Syndrome) and venous test applications (such as Venous Reflux PPG, Venous Valve and Muscle Pump test), as well as ECG (for Heart Rate Variability) with our individual upgrade modules.
The database is compatible and you can simply keep on working with the same patient files as before.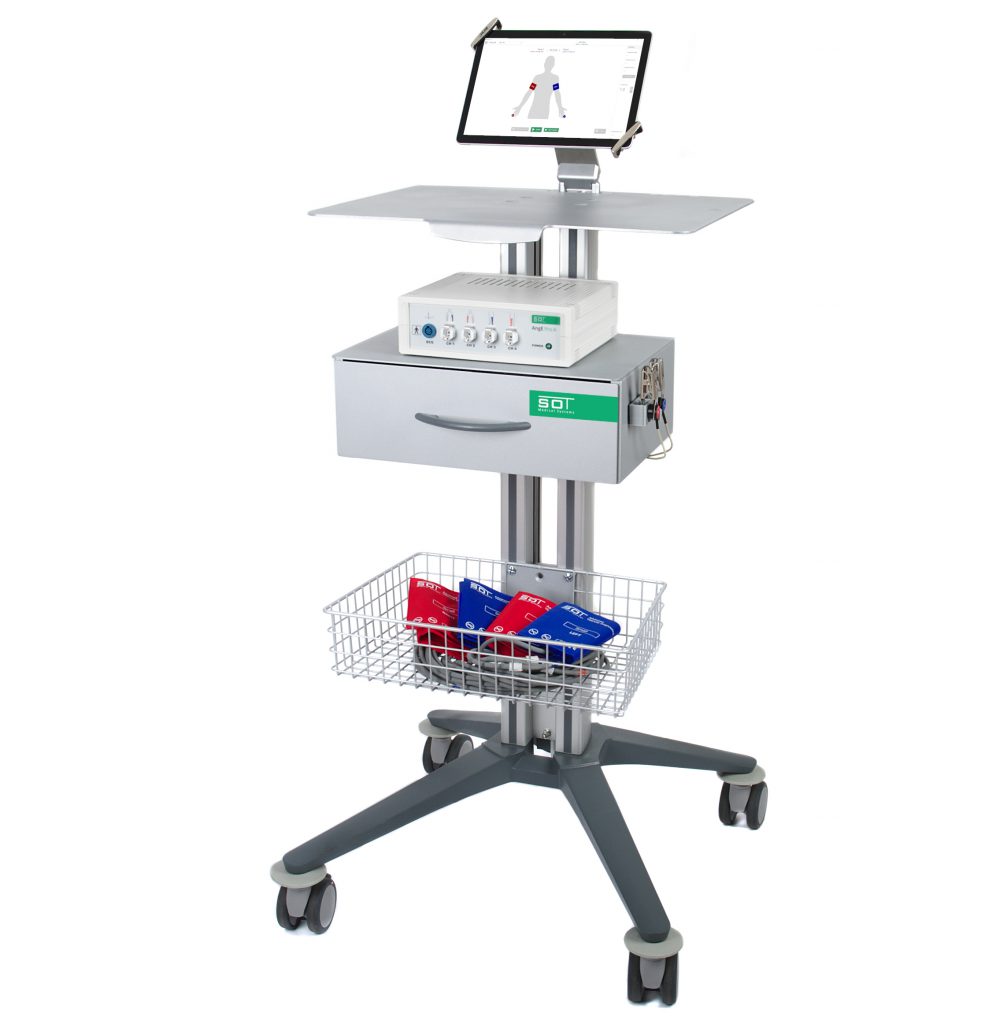 Intuitive Analysis Software
Easy application, sophisticated assessment.
Our brand new AngE™ software makes it easier than ever to prepare and conduct the measurements.
The touch-screen optimized user interface is intuitively simple to use and is designed to significantly reduce the learning barrier.
Further improvements:
Runs natively on macOS and Windows computers
DICOM and HL7 compatible (coming soon)
PDF export with custom clinic logo
Direct report comparison
Supports photo documentation for each test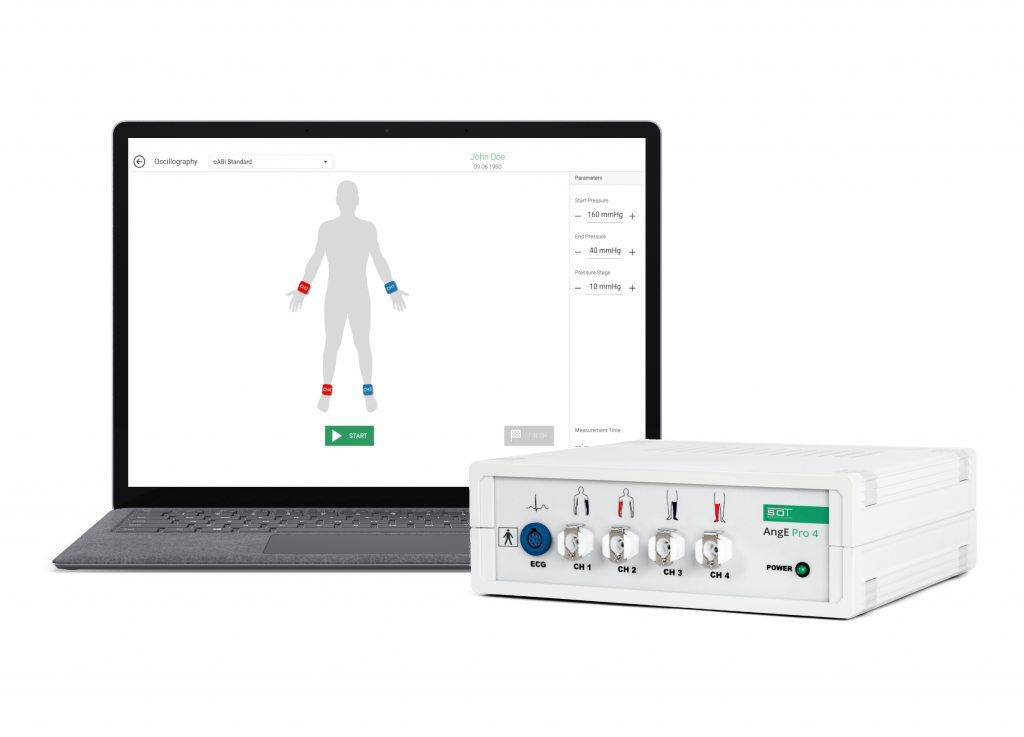 The high sensitivity of the optical sensors allow for a good documentation of the pulse waves, even with marginal blood flow. Given the virtually unfiltered display of pulse curves, dicrotic waves can be clearly identified for healthy and elastic arteries.
Benefits of AngE™ ABI+ compared to Doppler probes:
Time Saving
3-Minutes Screening compared to ~10min. Doppler ABI or ~20min. TcpO2 test.
Accurate
Cuffs measure all Vessels and Collaterals at the same time (compared to one vessel at a time with Doppler).
Simultaneous
Direct left and right comparison to detect slightest side differences in timing and amplitude.
Standardized
Comparable measurements (to detect trends) and reduction of human error. No additional training needed.
AngE™ Pro 4
Ankle, Wrist and Arm Cuffs
AngE™ Software
Optical TBI (add-on)
Request Trial
Submit the form to be contacted by one of our AngE™ vascular experts or to request an in-house demonstration.
* Sources:
World Health Organisation, 2014;
AHA – American Heart Association, "Asymptomatic Peripheral Arterial Disease Is Associated With More Adverse Lower Extremity Characteristics Than Intermittent Claudication", 2007
References
1. Automated oscillometric blood pressure and pulse-wave acquisition for evaluation of vascular stiffness in atherosclerosis. (Massmann et al. 2017)
2. Diagnostic Accuracy Study of an Oscillometric Ankle-Brachial Index in Peripheral Arterial Disease: The Influence of Oscillometric Errors and Calcified Legs. (Herráiz-Adilo et al. 2016)
3. Interrater and intrarater reliability of photoplethysmography for measuring toe blood pressure and toe- brachial index in people with diabetes mellitus. (Scanlon C. et al. 2012)
4. Photoplethysmography detection of lower limb peripheral arterial occlusive disease: a comparison of pulse timing, amplitude and shape characteristics. (Allen J et al. 2005)