AngE
DIABETIC
Innovative vascular screening for diabetes
The AngE uses the innovative TOPP method to provide a fast and secure diagnosis of the peripheral vessel status of diabetics, even with calcified vessels (media sclerosis). It allows measuring on ankle and wrists as well as on fingers and toes, including forefoot- and toe pressure measurement with TBI.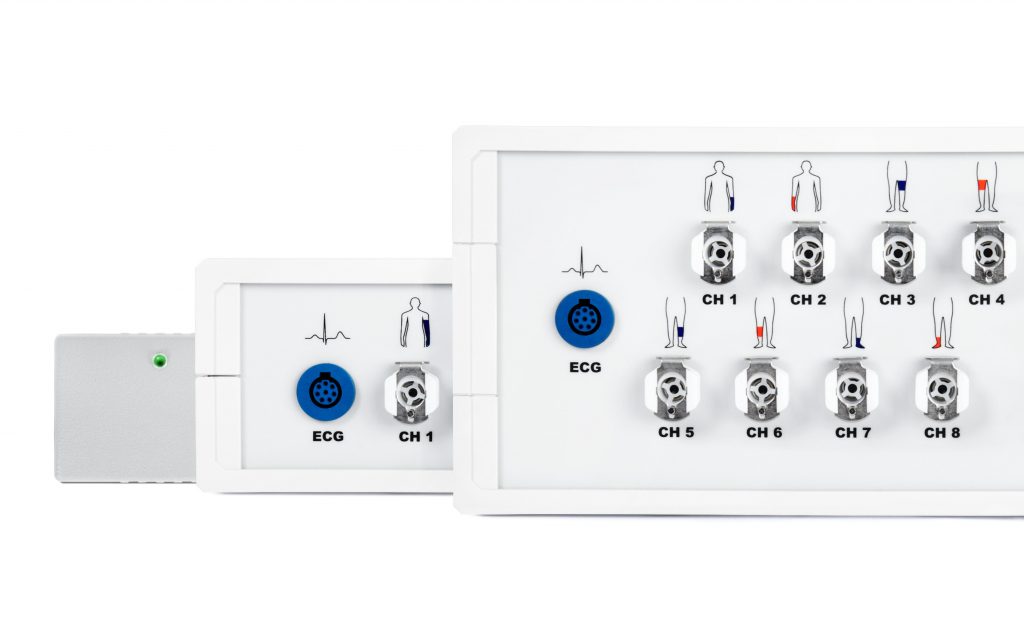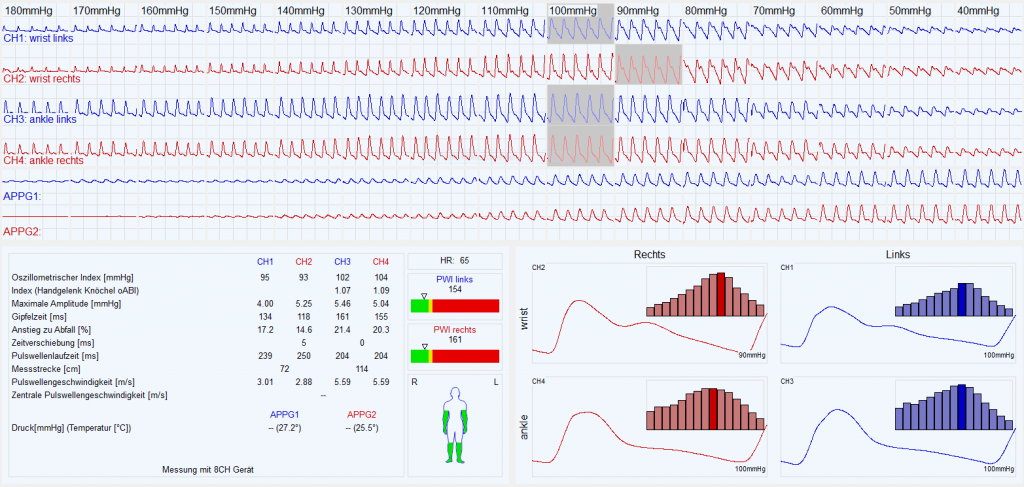 TOPP - Tissue Optical Perfusion Pressure
AngE TOPP combines four measuring cuffs and two optical sensors to enable the measurement on six measuring spots. This creates diverse possibilities to detect blood flow disorders within the final current areas as well as to assess the wound healing success of diabetic patients.
Simple Measuring Program in under 3 Minutes
The AngE TOPP measurement can be conducted easily by following a few steps and without significant stress for the patient. After applying the cuffs on ankles and wrists, as well as the optical sensors on the toes, the system applies a pressure of 180mmHg and decreases it stepwise by 10mmHg. By recording the optical sensors, the examiner can immediately determine the pressure step at which the patient's toes show the first pulsations. Different key indicators like the ABI, the amplitude or the peak time of the pulse wave, are recorded simultaneously.

Localization of Occlusions
TBI - Toe Brachial Index
Measurement on Bandages if necessary
Morbus Raynaud Diagnosis
Venous Valve Test with Tourniquet Measurement
Determination of Arterial Toe Occlusions
Pneumatic Acral Oscillography
Pulse Wave Velocity with ECG Trigger
Sitting (Wheelchair) Measurement with Index Correction
The high sensitivity of the optical sensors allow for a good documentation of the pulse waves, even with marginal blood flow. Given the virtually unfiltered display of pulse curves, dicrotic waves can be clearly identified for healthy and elastic arteries.
I consider SOT to be the European market leader for D-PPG measurements. The AngE Phlebo is a miniaturized device with high-quality, sophisticated evaluation software.
The AngE Phlebo is the state-of-art, haemodynamically significant D-PPG system for venous diagnostics. This non invasive functional investigation has always helped me accurately examine venous disorders, even with complex cases.