Prevent Amputations
Through early recognition of Blood Flow Disorders in extremities and forefoot area.
oABI, TBI, PWV
Determine Toe Pressure, Pulse Wave Velocity, Heart Rate Variability and more parameters.
PWI™ – Pulse Wave Index
The Pulse Wave Index is a clear and sensitive parameter based on pulse wave shape to determine the severity of blood flow disorders in significantly less time.
Stress Tests
Record the patients' blood circulation after passive and active stress tests, such as knee bends and toe tip stands, for effective clarification.
Micro- and Macrocirculation
Assess the Micro- and Macrocirculation to estimate the Wound Healing success.
In 3 Minutes
Simultaneous measurement of pulse waves and parameters in under 3 minutes.
Comprehensive Screening
The innovative method provides a fast and secure diagnosis of the peripheral vessel status of diabetics.
It allows measuring on ankle and wrists as well as on fingers and toes, including forefoot- and toe pressure measurement.
AngE DIABETIC combines four measuring cuffs and two optical sensors to enable the measurement on six measuring spots simultaneously. This creates diverse possibilities to detect blood flow disorders within the terminal vessels as well as to assess the wound healing success of diabetic patients.
Request Now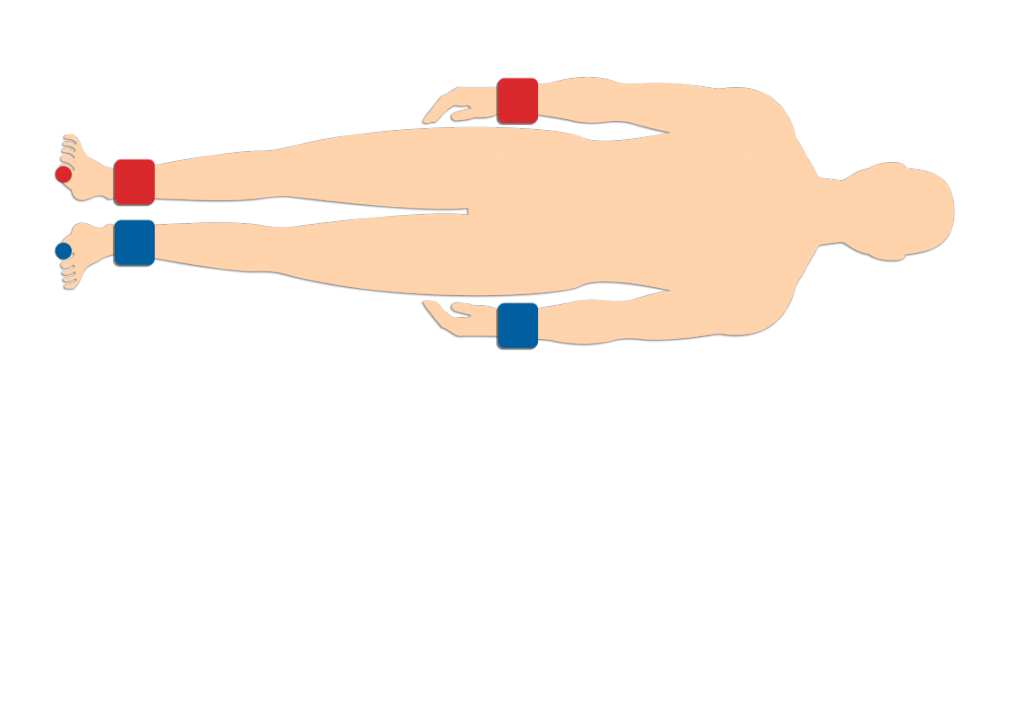 Comprehensive Report
The one-page report combines pulse wave and measurement parameters on a single page at the touch of a button.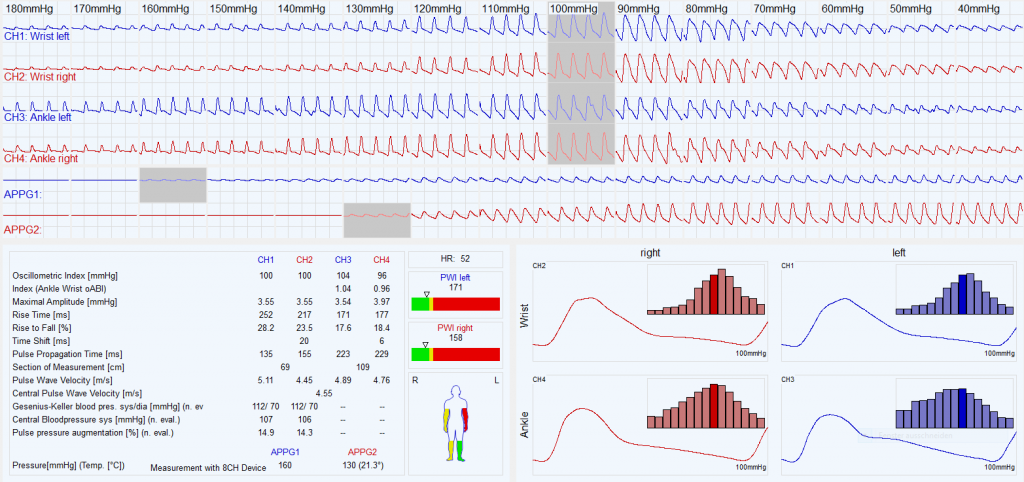 40,000
Amputations per Year
Out of the 60,000 amputations per year in Germany, 40,000 arise from Diabetes.*
25%
Diabetic Foot Syndrom
About one quarter of diabetics will suffer from a diabetic foot syndrome during their disease.*
3x
more PAOD Cases
Diabetics are 3 times more likely to be diagnosed with peripheral artery occlusive disease.*
Simple Measuring Program in under 3 Minutes
The measurement can be conducted easily by following only a few steps and without significant stress for the patient.
After applying the cuffs on ankles and wrists, as well as the optical sensors on the toes, the system applies a pressure of 180mmHg and decreases it by steps of 10mmHg.
By recording the optical sensors, the examiner can immediately determine the pressure step at which the patient's toes show the first pulsations. Different key indicators, like the oABI, the PWI, the amplitude or the peak time of the pulse wave, are recorded simultaneously.
The innovative TOPP method was developed in collaboration with: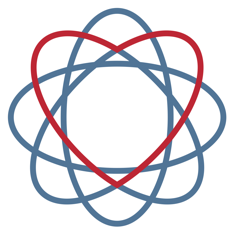 Prof. Dr. Georg Horstick

Practice for Vascular and Cardiac Medicine
Request Now
The high sensitivity of the optical sensors allow for a good documentation of the pulse waves, even with marginal blood flow. Given the virtually unfiltered display of pulse curves, dicrotic waves can be clearly identified for healthy and elastic arteries.
I consider SOT to be the European market leader for D-PPG measurements. The AngE Phlebo is a miniaturized device with high-quality, sophisticated evaluation software.
Request Information
Submit the form to be contacted by one of our AngE DIABETIC Experts or to request an in-house demonstration.
* Source: German Diabetes Society – Press Release September 28th, 2012
References
1. Automated oscillometric blood pressure and pulse-wave acquisition for evaluation of vascular stiffness in atherosclerosis. (Massmann et al. 2017)
2. Diagnostic Accuracy Study of an Oscillometric Ankle-Brachial Index in Peripheral Arterial Disease: The Influence of Oscillometric Errors and Calcified Legs. (Herráiz-Adilo et al. 2016)
3. Interrater and intrarater reliability of photoplethysmography for measuring toe blood pressure and toe- brachial index in people with diabetes mellitus. (Scanlon C. et al. 2012)
4. Photoplethysmography detection of lower limb peripheral arterial occlusive disease: a comparison of pulse timing, amplitude and shape characteristics. (Allen J et al. 2005)