Venous Function Tests
For a fast assessment of venous valve incompetence.
Determine pump volume (V0), venous fill time (T0) and venous half-life time (T50) in one simple test.
Arterial Finger/Toe Measurements
Assess arterial blood flow with Morbus Raynaud and TOS tests.
Optical Pulse Oscillography (OPO) allows to determine the patient's arterial blood flow in toes or fingers and therefore makes rapid examinations of TOS (Thoracic Outlet Syndrome) as well as the conduction of Toe Pressure measurements possible.
Venous Function Measurements
The AngE Phlebo is a 2-channel D-PPG/LRR device. This means it uses two IR-sensors to perform a venous function measurement. The system also supports using a set of Tourniquet cuffs.
Pump Volume and Fill Time
AngE Phlebo calculates pump volume (V0), venous fill time (T0) and venous half-life time (T50) automatically. The results are stated in a simple traffic light display and allow for a fast venous valve incompetence diagnostics.
Muscle Pump Function
In order to evaluate the function of the muscle pump, AngE Phlebo allows performing measurements while the patient is walking.
Arterial Blood Flow Tests
By applying the optical sensors on toes or fingers, arterial circulation disorders such as Morbus Raynaud or TOS can easily be assessed.
Temperature Probes
Measurement probes on both sensors sense and compare the patient's skin temperature during the measurement.
Comprehensive Software
AngE Phlebo comes with a sophisticated software featuring patient management, measurement analysis, DICOM/HL7 interfaces and many more.
2-Channel D-PPG/LRR
Simultaneous Venous Function Tests to assess Venous Valve Incompetence and Muscle Pump function.
Request Now
Optical Pulse Oscillography on Fingers and Toes
Effective evaluation of arterial circulatory disorders, such as Morbus Raynaud or TOS.
The AngE Phlebo is the state-of-art, haemodynamically significant D-PPG system for venous diagnostics. This non-invasive functional investigation has always helped me accurately examine venous disorders, even with complex cases.
The high sensitivity of the optical sensors allow for a good documentation of the pulse waves, even with marginal blood flow. Given the virtually unfiltered display of pulse curves, dicrotic waves can be clearly identified for healthy and elastic arteries.
AngE Phlebo D-PPG
AngE Software
Adhesive Rings
Manual
Combinable with AngE Pro 4
Use your AngE Phlebo with the AngE Pro 4 measuring cuffs to obtain diverse possibilities, such as accurately assessing the wound healing success of diabetic patients.
Learn More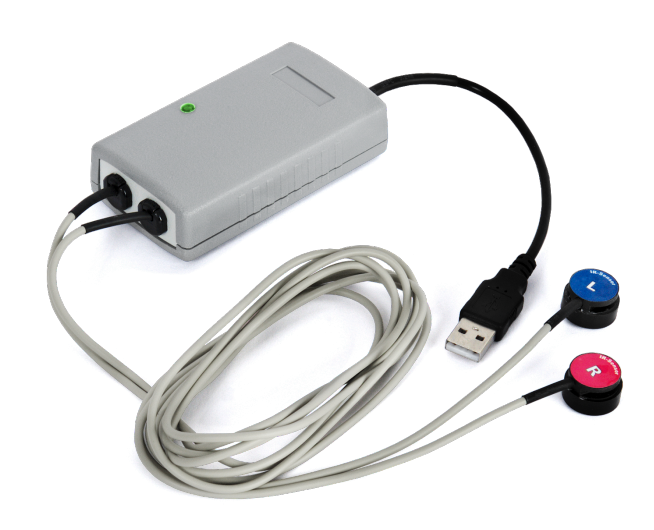 AngE Phlebo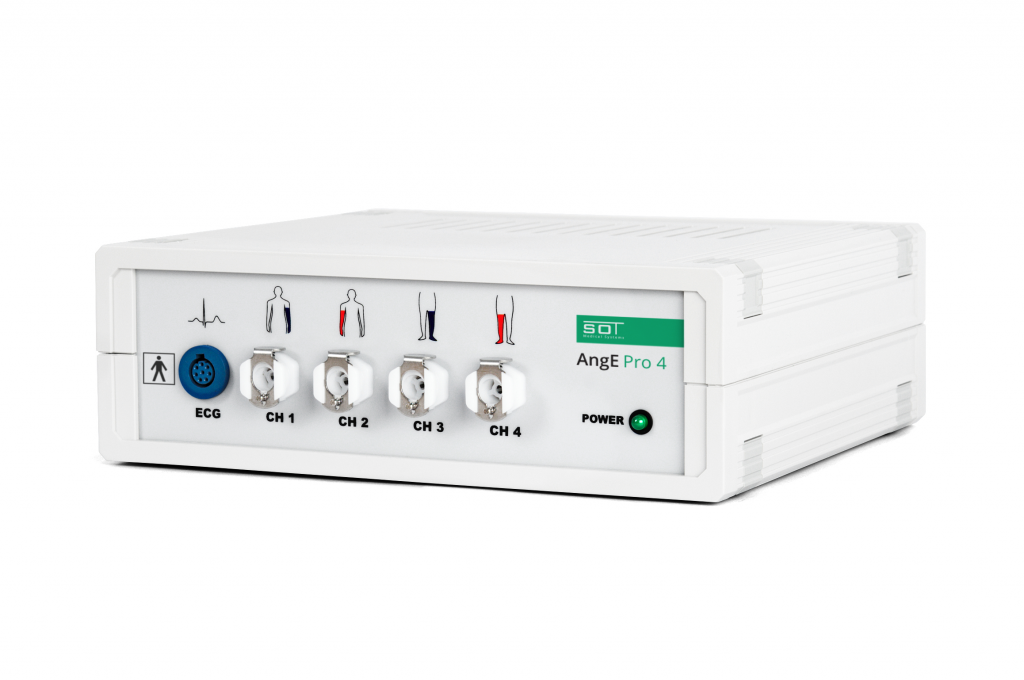 AngE Pro 4
Request Now
After you submit the form you will be contacted by one of our AngE Phlebo Experts in no time.
References
1. Interrater and intrarater reliability of photoplethysmography for measuring toe blood pressure and toe- brachial index in people with diabetes mellitus. (Scanlon C. et al. 2012)
2. Photoplethysmography detection of lower limb peripheral arterial occlusive disease: a comparison of pulse timing, amplitude and shape characteristics. (Allen J et al. 2005)
3. Photoplethysmography can replace hand-held Doppler in the measurement of ankle/brachial indices. (Whitely MS et al. 1998)
4. Effects of isokinetic calf muscle exercise program on muscle strength and venous function in patients with chronic venous insufficiency. (Ercan et al. 2018)
5. How posture influences venous blood flow in the lower limbs: results of a study using photoplethysmography. (Lastowiecka-Moras 2017)
6. An evaluation of the lower extremity muscle strength of patients with chronic venous insufficiency. (Cetin et al. 2016)
7. Risk factors for chronic ulceration in patients with varicose veins: a case control study. (Robertson et al. 2009)
1.) AngE Phlebo is a 2-probe infrared device powered by its USB port. A computer with available USB port, operated with Windows 10 is required for operation. More information.
2.) Offer is only valid for online requests from the following regions: Austria, Germany, Switzerland.
3.) CE-marked device: Our AngE products comply with the requirements of RoHS 2011/65/EC and Annex IV of the Medical Device Directive 93/42/EC. More information. Personal face-to-face training is required before operating this device.